Travertine Tile Pavers, and Travertine Tile and Paver Installation for Patios, Walkways, and Driveways in Miami, FL
If you have a home in Miami and are thinking about renovating your backyard, travertine tile pavers are a smart choice.  Travertine is a natural stone like marble, slate, and granite.  The stones all have unique qualities, such as strength, texture and color.  Some people call travertine marble, but it is not a marble, as it is a limestone. What makes travertine different from the other natural stones is the way it is formed.  Travertine is a type of limestone that is formed by mineral deposits from natural springs or limestone caves.  It is known for its beauty, color and surface.  Travertine often has a pitted surface with holes and little troughs that gives each tile its unique character.
Travertine Tile and Paver Installation 
Once you have decided on travertine tiles and pavers as your material of choice for your outdoor project in Miami, our team of experts will develop the installation plan with you.  The location of where you want your new patio, walkway, or driveway will need to be identified and the perimeter marked off.  Our install team will excavate the ground down to a depth of six inches, plus the depth needed for your tile.  We compress the area with a compactor machine to get a flat, even surface.  We add a paver base, which consists mostly of gravel, then compress it again.  Sand is added on top, then we lay the travertine pavers on the bed of sand.  We make sure all the pavers are level, sometimes tapping them deeper into the sand with a mallet if needed.  The pavers are placed in the pattern you selected, usually building outward from a corner.  The foundation and bed of sand holds the pavers in position.  Sand is used to fill the joints when they are all set in place.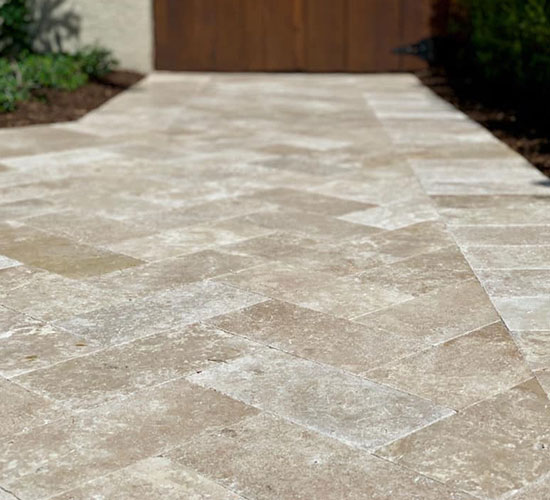 Travertine Tile and Pavers for Patios, Walkways & Driveways Miami
Travertine is a low maintenance material, perfect for outdoor use around your home.  It is very durable and resistant to heat, making it perfect for those long, hot summer days in Miami.  Travertine tile and pavers are a great material to be used for patios, walkways and driveways.  The pavers can be installed in a decorative pattern if you wish, adding to your outdoor yard aesthetic. 
Travertine Tile Pavers in Miami, FL
Miami is an active city and a great place to enjoy outdoor living.  The weather is always warm in the winter and in the summer.  Miami has a large population, and many people who live in the northern part of the United States come to Miami during the winter to escape the harsh weather.  There are many cultural events to be enjoyed in Miami throughout the year.  Some of them include Art Basel, Miami Tennis Open, and Ultra Music Festival. 
Deco Concrete provides Stamped Concrete, Concrete Pads, Brick Pavers, Overlay systems and more.