Brick Pavers and Patio Pavers with Stamped Concrete Solutions for Miami Residents
Thanks for stopping by the page that we created for people that are looking for brick pavers in Broward County and Miami-Dade County. We are widely considered to be the most reliable resource for brick pavers in Fort Lauderdale, Miami proper, Hollywood, Deerfield Beach, Kendall, Hialeah, and all other municipalities in the area. Our long experience is hard to match, and we know exactly how to enhance the appearance of local homes and businesses with the right brick pavers.
If you are interested in brick pavers for your driveway, your patio, and/or your pool area, you may have concerns about the price. There are a number of different reasons why you should definitely set them aside. One of them is the fact that we have developed very strong relationships with our suppliers over the years. They give us great deals on brick pavers, and we pass the savings along to our clients that engage us to install them in Miramar, Weston, Palmetto Bay, Doral, and the other Miami-Dade County and Broward County cities that we serve.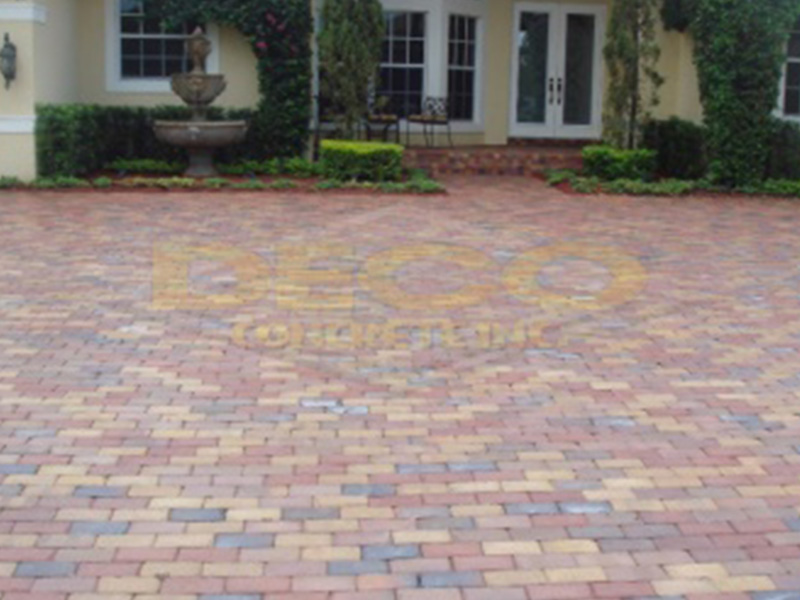 Secondly, when you make any type of significant home improvement, the value of your property is going to rise considerably. If you are like most people, your home is your most valuable asset, so you are fortifying your financial position if you put money into your property wisely. The installation of beautiful, brand-new brick pavers will ratchet up your curb appeal, so the investment will pay significant dividends immediately.
Plus, if you would like to pay for the project over time, we have a partnership with Synchrony Bank. They offer lines of credit for homeowners that want to make improvements, and special financing is available to make things easy for you. When you combine all of these positives, you can see that there is really nothing standing between you and the upgrade that you are considering.
Contact Deco Concrete Right Now!
It is said that a picture is worth 1000 words, and this definitely applies to brick pavers. You can see many examples of our work if you take a moment to browse through our portfolio page. And if you are ready to set the wheels in motion, you can reach one of our Miami-Fort Lauderdale brick paver consultants at 305-828-5158. To send us a message electronically, simply contact us online here.
Deco Concrete provides Stamped Concrete, Concrete Pads, Brick Pavers, Overlay systems and more.