Brick Pavers and Professional Driveway Pavers with Decorative Concrete in Parkland
Decorative Concrete in Parkland, Florida
We are glad you found your way to our Parkland, Florida decorative concrete information page. Our company, Deco Concrete, has been exceeding the expectations of discerning homeowners throughout Broward County for over 25 years, and we are still going strong. In fact, we are just hitting our stride, and it is very gratifying to provide home improvements to people in this fine community. From the Holmberg Road/New Holmberg Road section to City Center to the Route 441/Loxahatchee Road area, for driveway pavers in Parkland, FL, Deco Concrete is the trusted resource.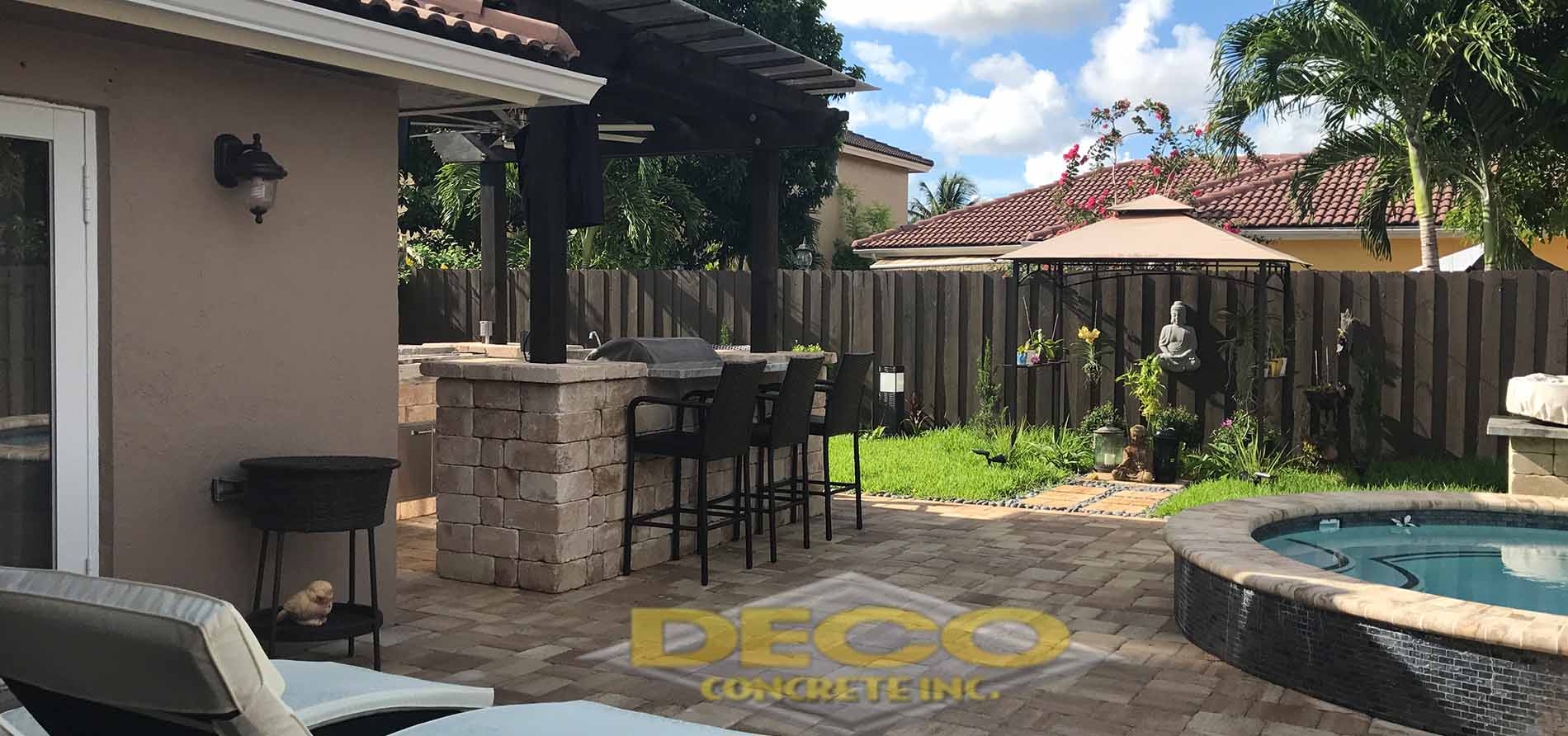 Comprehensive Design and Installation Services
Driveway pavers are one area of expertise for our company, and brick pavers are preferred by many of our customers. However, others like the look of stamped concrete, and this is another very viable option. In addition to the driveway pavers Parkland, Florida homeowners can obtain from us, we also create decorative concrete walkways, patios, pool decks, and more. The only limitation is your imagination, but if you need some fresh ideas, we would be glad to put our design expertise to work for you.
There is a certain investment involved when you engage us to complete a Parkland, Florida decorative concrete project to beautify your property. However, it should be looked at as an investment rather than an expense. As soon as the home improvement is completed, the value of your property is going to increase substantially, and this will offset the costs.
If you are interested in driveway pavers, brick pavers for another application, or any other type of decorative concrete upgrade, you don't necessarily have to pay out of your own pocket all at once. At the present time, we can connect you with 18 month special financing through Synchrony Bank, so you can enjoy the home transformation today and pay for over an extended period of time.
As they say, a picture is worth 1000 words, and we invite you to take a look at our portfolio page to see real-life examples of the type of decorative concrete work that we do for our clients. If you are impressed, take action today. You can discuss your options with one of our Parkland, Florida decorative concrete specialists right now if you call us at 954-962-8009, and our toll-free number is 305-828-5158. We also have a contact form that you can fill out right here on this website if you would like to reach out electronically.
Deco Concrete provides Stamped Concrete, Concrete Pads, Brick Pavers, Overlay systems and more.