Driveway, Patio, and Pool Pavers, Concrete Pads, and Stamped Concrete in North Miami Beach
Outdoor changes to your property in North Miami Beach, FL that can improve the curb appeal while adding longevity can include stamped concrete patios and driveways, using brick pavers and patio pavers, and more. Deco Concrete, Inc. has been working with these materials and homeowners for a generation and will do the same for your property. Utilizing pool pavers, we can create different patterns or designs, the stamped concrete options can replicate the look of different materials and colors, and they all will last for many years while still looking great. Contact our team today to learn more and start designing your new walkway, driveway, patio, or other space.
Brick Pavers and Concrete Pads in North Miami Beach, FL
Brick pavers can be used in a variety of different ways. While patios and pools are common areas to use these versatile materials, they can be used in different ways as well. Use them around the support posts for your pergola, create outdoor seating with them, use them in outdoor fire pits, and other options. These pavers can be made from natural stone, travertine, marble, concrete, and other materials that will complement your home.
Driveway Pavers, Pool Pavers, and Patio Pavers in North Miami Beach
Utilizing pavers for your driveway is a common option that provides a lot of benefits. They provide good permeability for drainage of rainwater, they are low maintenance and are resistant to stains, fading, and discoloration. They also enhance safety because of their textured surface, making them ideal as pool pavers in a traditionally slippery area. They are durable and stand up to varying weather conditions and temperature changes, which makes them ideal as patio pavers as well.
Stamped Concrete in North Miami Beach, Florida
Have you ever wanted flagstone for your driveway, but didn't like the price? Or maybe you like the look of a wood patio but don't want to have to worry about the high maintenance required to keep it looking good. The answer to these issues is using stamped concrete at your North Miami Beach, Florida home. This technique can give you the look you want without the high cost or high maintenance requirements. No matter what you are looking to do, Deco Concrete, Inc. has the solution to elevate your property.
Learn how concrete pads, driveway pavers, stamped concrete, and more can enhance your home. Originally named "Fulford-by-the-Sea" in 1926 after Captain William H. Fulford of the U.S. Coast Guard, the city was renamed "North Miami Beach" in 1931. In the 1920s, Carl G. Fisher built an all-wooden racetrack with stands for 12,000 spectators, known as the Fulford–Miami Speedway. Contact us today to learn more and begin the design process for your property.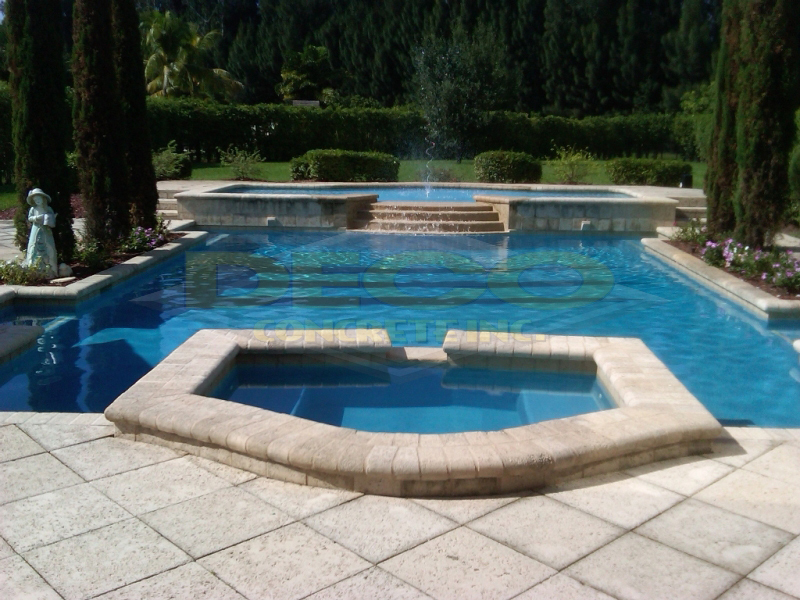 Deco Concrete provides Stamped Concrete, Concrete Pads, Brick Pavers, Overlay Systems and more!
We help you design
the life you want.
Give us a call and learn what we can do for you.