Are you planning your home outdoor? Or do you want to remodel the outdoor a little bit? There are various things you can do with your home exterior like a walkway, lawn, or a pool in the backyard. You can also build patio decks and enjoy a cup of tea in the morning or evening. If you build a patio, make sure you also get patio pavers. These not just add a beautiful touch to the layout of your patio but it ensures safety and prevents one from tripping and falling. This is especially necessary if you have kids and elderly family members at home. We, at Deco Concrete, can be the right choice for you. We are an established and experienced company which has spent more than 20 years in this field. We can bring you all kinds of highly durable and well-designed pavers, right from brick to concrete pads. We are known for our variety in style and colors for the pavers along with our customer oriented approach. So, if you belong to areas such as Fort Lauderdale, Palmetto Bay, Miami – Dade, Parkland, Coral Gables, Miami, then you can opt for us.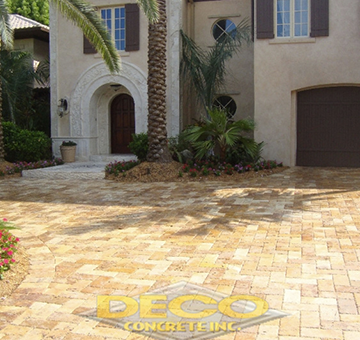 Here, we have put together a few essential things to check about the patio pavers before buying. Take a look.
First of all, you should ensure that the pavers are of a good quality. You have to ensure these are made of good quality and will last for long. Or else, there is no point in making such an investment.
Next, you must keep an eye on the price of the pavers. You have to check if the price is suitable for the budget or not. You must take quotes in advance and compare with others to find a cheaper solution.
So, if you are thinking of choosing us, then contact us now.