When you are out and about in the Miami area, you may come across a stunning driveway, an enticing patio, a charming walkway, or an inviting pool area that catches your eye. You might wonder about the material used to create such an appealing and engaging look that blends so perfectly with the surroundings. And one of the trendy and sought-after options that homeowners, architects, and builders in the Miami and South Florida areas choose when it comes to enhancing the beauty and functionality of their outdoor living spaces is stamped concrete.
This versatile and durable material offers a variety of customizable designs, colors, and patterns that can match virtually any style or taste. Moreover, stamped concrete provides several benefits, including affordability, low maintenance, slip-resistance, and long-lasting performance that can withstand harsh weather conditions, heavy traffic, and daily wear and tear.
When it comes to improving outdoor surfaces, most people lack knowledge of the different types of solutions available. However, we pride ourselves on providing our customers with thorough explanations to help them make fully informed decisions. One such solution is stamped concrete, a versatile material full of possibilities. With its ability to be textured, patterned, and embossed in a wide variety of colors, stamped concrete can take on many different looks – from flagstone to tile, from slate to brick, and even wood. This broad palette gives designers and homeowners alike plenty of options to work with when formulating design plans.
Cost-effective and long-lasting, stamped concrete often costs less than the materials it emulates, making it a popular choice for those looking to beautify their outdoor spaces. To see examples of our work with stamped concrete, you can visit the relevant section of our online portfolio. The ability to make the stamped concrete look like different materials can also be quite cost-effective. In many instances, stamped concrete is less expensive than the stone or brick that it can effectively emulate. Stamped concrete is durable and long-lasting, so you can enjoy your home improvement for years to come if you work with us to make your outdoor spaces more attractive and functional.
A picture is worth 1000 words. Take a look at our portfolio and see what we can do for you.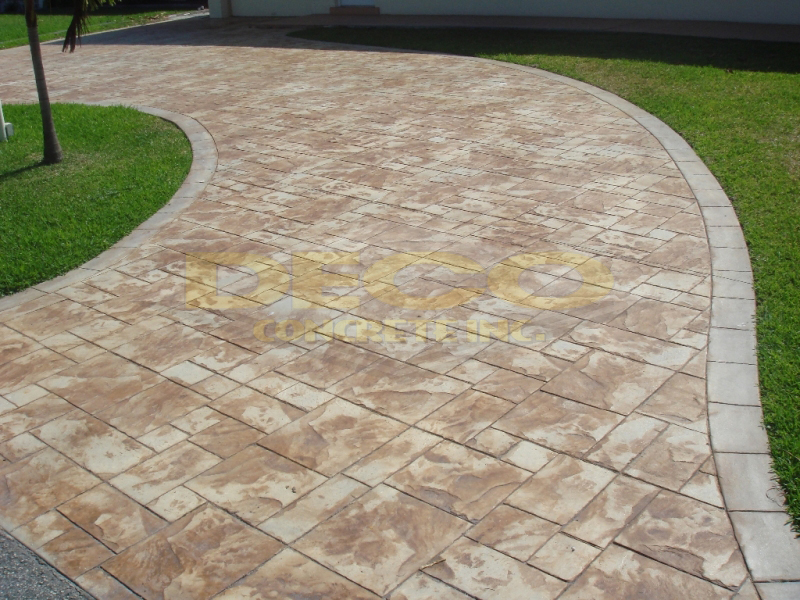 DECO Concrete has been in business since the middle of the 1990s and we have developed relationships with multiple different Miami area providers.
Intelligent sourcing is critical to successful business operations. It involves identifying and securing the best suppliers, materials, and services, all while minimizing costs and risks. With our expertise and focus on innovation, we are confident in our ability to provide excellent sourcing solutions that meet our clients' unique needs. We work closely with all suppliers to ensure a streamlined and efficient process that saves time and money.
Our dedication to quality and attention to detail set us apart from our competitors. We are confident in our ability to deliver results that exceed expectations, and we look forward to partnering with you to drive success.
If you are ready to take the next step toward a more beautiful home, call us at 954-962-8009 in Broward County or 305-828-5158 in Dade County and we will be glad to help. Or you can click here to contact us by using the online form.
Deco Concrete provides Stamped Concrete, Concrete Pads, Brick Pavers, Overlay Systems and more!