Are you busy with your home exterior decor? If you are blessed with a huge outdoor, it is natural to make it look even more stunning. There are certain elements that you can add to the layout to make it more layered and interesting. That is why what you need to do is get different kinds of tiles and pavers for your outdoor space. But the most popular among these would be the travertine tile pavers. We, at Deco Concrete, can bring you a wide variety of brick pavers, concrete pads, overlays, and so on. We are an established and reliable company with experience of more than 20 years now. We are known for our state-of-the-art products and customer-oriented approach. We cater to the varying tastes of all our clients. So, if you are located in areas such as Miami, Kendall, then you can rely on us.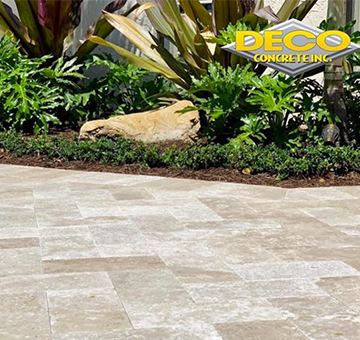 Here, we have put together a few reasons why travertine tile pavers are becoming more and more popular with time. Take a look.
Greater Durability
Travertine is a sturdy material. This strength makes it a first choice among contractors for many construction projects. If you take the necessary care and maintain it well, these tiles and pavers can last for decades.
Easy Repair
Your property, be it the interiors or the outdoors, will start to wear away with time. But if you use the travertine tiles or pavers, then it will be extremely easy to get it repaired after such damage. Getting the natural stones replaced is much easier.
Cool Quality
Travertine can remain cool even when exposed to direct sunlight. The calcium carbonate deposits on the travertine after it is formed usually lacks the metals found in other building materials. This makes these tiles and pavers great for pool decks or patios.
So, if you are thinking of choosing these kinds of tiles or pavers, then contact us today.