Travertine Tile Pavers, and Travertine Tile and Paver Installation for Patios, Driveways, and Walkways in Kendall, FL
Travertine tile pavers are a great option for your home in Kendall, Florida.  Not only are travertine tiles beautiful, they have many benefits.  They are heat resistant, so they are cool to the touch when you need to walk on them barefoot.  Heat reflecting tile is an important feature to have in Kendall, where temperatures are hot year round from the Florida sun.  The tiles also have a natural texture and color that make them unique, instead of the tiles that have a cookie cutter appearance.
Travertine Tile and Paver Installation in Kendall
The installation of your travertine tiles and pavers is a straightforward process.  It is basically laying the travertine pavers on a bed of sand, and then using more sand to fill in the spaces between the pavers.  The weight of the tiles and the compacted sand keeps everything in place.  Our team will work with you to develop a plan for the installation.  You will need to determine the area of where you want the pavers for your new driveway to be placed.  When you have decided the area, we will mark the ground to designate the work area.  We will excavate the dirt in the designated area, down to six inches, plus the extra room needed for the pavers.  The area is compacted to make sure it is a flat surface.  A paver base, made of primarily gravel, is added onto the surface then flattened out.  Sand is the last layer, as the travertine tiles go on top of the sand.  The tiles are all pressed down into the sand, and made sure they are in alignment and leveled.  Sand is used again to fill in the joints of the tiles to secure them in place.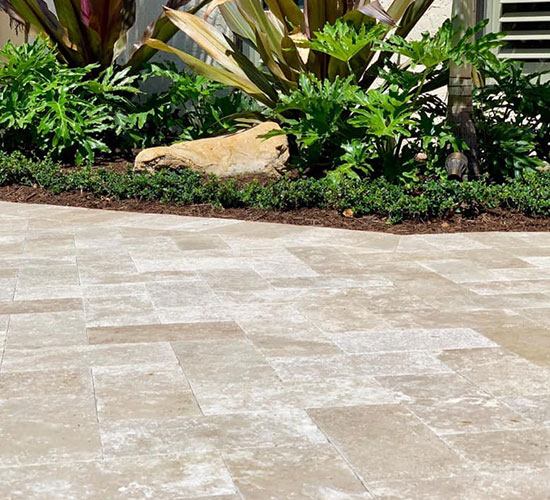 Travertine Tile and Pavers for Patios, Walkways & Driveways
Travertine tile and pavers are an excellent choice of material to use for patios, walkways and driveways.  Not only are the pavers attractive and heat resistant, they are decorative.  They can be installed in many different types of stylish and distinctive patterns.  Our team will go over the many decorative pattern options with you.  You decide the design that suits your home and yard aesthetic the best, and we will install the pavers in that pattern.
Travertine Tile and Pavers in Kendall, FL
Kendall is a suburb of Miami where most residents own their homes and enjoy outdoor living.  Kendall residents appreciate the good life and the fabulous warm weather by visiting the numerous parks and golf courses.  There are plenty of dining and shopping options, and the Dadeland Mall has both.  Kendall is a great place to raise a family, with its suburban feel, highly rated schools and outdoor recreation options.
Deco Concrete provides Stamped Concrete, Concrete Pads, Brick Pavers, Overlay systems and more.