Are you working on the outdoors of the house? If you have been given the blessing of a big outdoor space, you should totally take advantage of it. There are several things that you can do with your outdoors, starting from a driveway and walking away to an outdoor patio or even a pool deck. Whatever it is that you decide to do with the outdoor area, you must make sure that it is properly adorned and at the same time, it's safe for everyone to use. That is why more and more people are investing in brick pavers when it comes to their outdoor décor. We, at Deco Concrete, can be the right choice for you. We are one of the most established and reliable companies which have been in this business for over 20 years now. We can provide you with all kinds of brick pavers and concrete pads which will not just beautify your outdoor elements but will make sure there is the right kind of friction on the ground to prevent people from slipping or falling down. So, if you are located in areas like Miami, Pembroke Pines, Miami Beach, Parkland, Fort Lauderdale, or Palmetto Bay, then you can opt for us.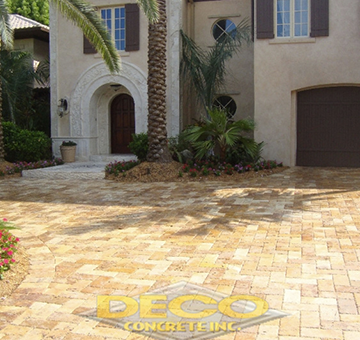 Here, we have put together a few things to check about a company offering new brick pavers. Take a look.
One of the major criteria for choosing the right company for these kinds of outdoor elements will be the quality of the products. You have to check the quality of brick pavers you are getting from the company before making a choice. The level of durability will be getting from these products will depend on the materials that they are made of.
Whether you can trust this company for your brick pavers will depend on the kind of reputation they have in the market. That is why you must ask for client reviews and ratings to check the sort of standing they have in the market. This will also give you an idea of the sort of products or services you can expect from them.
So, if you are thinking of choosing us, contact us today.