Brick Pavers may be considered for a small area, such as an outside patio or pathways, or a much bigger area, such as an entrance area or driveway. While there are other options for covering small to large portions of land, such as asphalt, concrete, and so on, paving is by far the most convenient and cost-effective. As a responsible homeowner, you want your driveway, patio, walkways, and pool deck to withstand the elements, require little upkeep, and look brand new for many years. You still want them to be cost-effective, though. That is why pavers have become increasingly popular in recent years. Pavers have several advantages, and they are: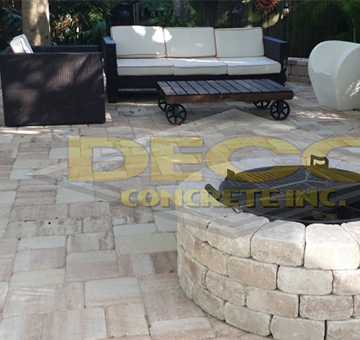 Durability and Strength
Brick pavers can handle a lot of weight and are suitable for a wide range of landscaping projects. Brick pavers will outlast poured concrete and will retain their color better than colored concrete.
Low Intensity
Brick pavers are the most cost-effective option in the long run. Maintenance is minimal, and the durability outlasts anything else on the market, particularly poured concrete, which tends to crack. They usually do not require much upkeep and can be expected to live for generations.
Non-slip surface
Because of its natural rough surface and extremely abrasive properties, brick pavers are slip and skid-resistant. Pavers may be installed fast and are ready to use right away.
Environmentally friendly alternative
Natural clay from the earth's soil is used to make brick pavers. It will not fade in color or finish over time, indicating that it is a sound investment that will add to the value of your home.
Deco Concrete Inc. has been providing solutions and services for almost 25 years. Our staff considers the aspects and design, and we use our knowledge to construct and alter your home. We've honed our design skills, which you can see in our web portfolio. You can contact us if you live around Miami, Pembroke Pines, Miami Beach, Parkland, Fort Lauderdale, and Palmetto Bay areas.