Are you planning to renovate your house? Are you going for the normal concretes that are readily available in the market? Why not opt for decorative concrete? These not only provide an artistic touch but enhances the overall aesthetic features of your property. We, at Deco Concrete Inc., have 25 years of experience in designing and installing various kinds of concretes, pavers forma overlays. We have been quite a name for ourselves due to our state of art products, exemplary designing, and dedicated services of our professionals. We help to improve the look and the overall feel of the property of the people of Fort Lauderdale, Coral Gables, Miami, Miami – Dade, Parkland, and Palmetto Bay.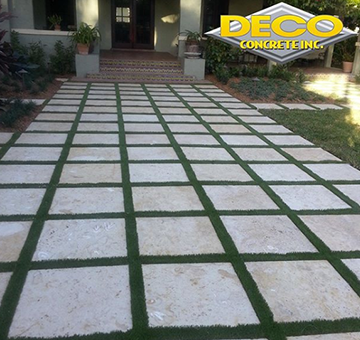 Below we have mentioned top 3 reasons why decorative concrete is a preferred choice. Take a look.
As opposed to the vinyl or hardwood floors, decorative concretes do not get easily affected due to the physical impact or any other environmental factors. They are strong, durable, and do not wear down easily as they are resistant do any external force. In the long run these concretes will be economical due to their durability.
Then you choose decorative concrete, you get design, flexibility, and superb finish that you will not get with any other material. A variety of designs are available from stamped concrete, acid etched, polished look, and even dyed or all-over stained ones. You even get choices in color and textures.
Another big advantage of decorative concretes is that they are very easy to clean and maintain. With this kind of concrete, one does not need to regularly polish it, or coat it. Since this does not require regular maintenance or repair, it saves a lot of your time.
So, if you want to install concrete in your driveway or any other place in your property, you can get in touch with us at 305-828-5158.