Are you thinking of setting up your home outdoor? There are various ideas that you can try to make this area more appealing and add to your property value as a whole. You can work on your own lawn or you can go for a pool in the backyard. You can have about you, a driveway, or even a walkway. No matter what you choose to do, try to use decorative concrete pads in the outdoor to break the monotony of the texture in this area and add a little more color to the whole design. We, at Deco Concrete, can be the right choice for you. We are an established and reliable company which has been in this field for more than 20 years. We can provide you with a variety of concrete pads and brick pavers in great quality. We are known for our highly durable products and customer oriented approach. So, if you are based in areas like Coral Gables, Miami, Palmetto Bay, Pembroke Pines, Miami – Dade, or Pinecrest, then you can opt for us.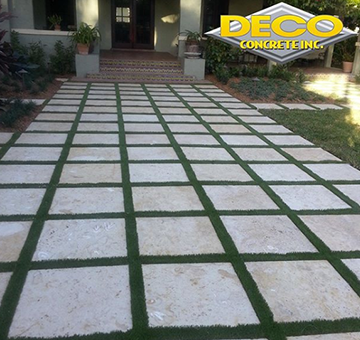 Here, we have put together a few things to check about the decorative concrete pads before buying. Take a look.
Design
You are using these decorative concrete pads to not just add more functionality in your outdoor area but also to make it look more appealing. That is why the design of these decorative concrete becomes more important. You should look at the various designs and check which one is going to be most suitable for your outdoor area.
2. Price
Everyone has a set budget for their home improvement plans. You must ensure that the price of these concrete pads are suitable for your budget. If required, you can always take quotes from the companies and compare them to check which one is most suitable for your pocket.
So, if you are interested in our decorative concrete, contact us now.