Do you have a huge outdoor? Every home is not blessed with a great home exterior space so if you have one, you should use it judiciously. There are so many things that you can do with your outdoor space. You can build hardscapes, walkways, driveways, or have your own pool area. You can also go for a lawn if you love the greenery around you. But no outdoor space is complete without some concrete pads or brick pavers. This will enable you to get a more appealing outdoor design as well as help you from slipping or falling on these areas, allowing smooth walking. We, at Deco Concrete, Inc., can be the right choice for you. We are an established and reliable company which has been in this field for more than 20 years now. We bring you decorative and stamped concrete pads and brick pavers which can be used in your patio, driveway, or even pool decks. We are known for our great quality products and affordable pricing. So, if you are located in areas like Fort Lauderdale, Pembroke Pines, Golden Beach, Miami, Doral, or Miami – Dade, then you can rely on us.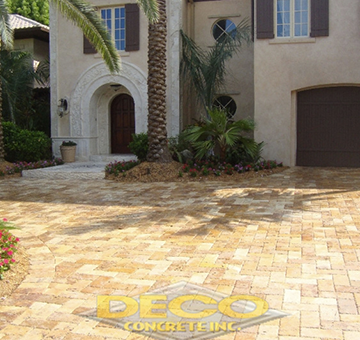 Here, we have put together a few things to lookout for while choosing a company for brick pavers. Take a look.
You must make sure that the company you are choosing for brick pavers offers quality products. You have to ensure that these products are made of good quality materials so that these are more durable and last for long. After all, you are going to invest your hard earned money and it should be worth it.
Apart from the high-quality products, you have to make sure that the company has a good standing in the market. You should go through their client reviews, feedbacks comment online ratings to understand the sort of reputation they have. This will help you make a more reliable choice and you will know what to expect from them.
So, if you are thinking of choosing us, contact us today.