Having the right paver on your property is very important as it can make or break your driveway. If you want the choicest driveway pavers, you can let us, at Deco Concrete, help you with the selection. We have created quite a name for ourselves when it comes to providing hardscape solutions in regards to driveway pavers. Being a family-owned and operated company we tend to each of our customers personally and you can see the example of that with our continually increasing client base. The people of Fort Lauderdale, Miami – Dade, Palmetto Bay, Pembroke Pines, Coral Gables, Miami Beach trust us because of the customer service that we provide before, during, and even after the installation is done.
Below we have mentioned the 2 things to consider when selecting brick pavers for your driveway. Take a look.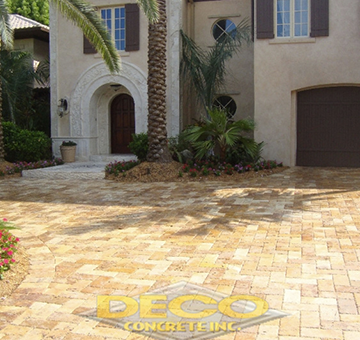 What kind of driveway do you want?
There are a variety of papers available in the market each having its own advantages and disadvantages. Brick, Concrete, Cobblestone, Marble, Flagstone, and even rubber are a few of the common types of pavers used by people in their driveways. You should be choosing your favor depending on your requirement like if you want the best drainage system if you want long-lasting with the least maintenance or if you just want to increase the curb appeal of your house.
A few miscellaneous factors
Apart from the material and the basic purpose of the driveway there are quite a few other considerations that come into play. Cost-effectiveness, durability, eco-friendliness, and not forgetting the local regulations and incentives should also be taken into account when choosing a paver for your driveway. You should also consider the time and effort taken to install the particular paver chosen by you in your driveway.
So, if you have any other queries while choosing a paver for your driveway, you can get in touch with us at 954- 962- 8009.