If you have a huge outdoor space outside your home, you should not let it go for a waste. After all, very few houses these days have a spacious outdoor. You should take pride in your outdoor and learn how to make it even more interesting. You can put your landscape to a great use if you are wise. But first of all, you should realize that every landscape should be well-designed too along with being functional. This will translate to a greater value for the house. One of the most useful elements for the decoration and design of your landscape will be pavers. Nowadays, you get different kinds of pavers which can be used in several places to adorn your home. We, at Deco Concrete, Inc., can help. We can bring you a wide range of patio pavers which will change the scenario of your outdoor. Right from brick to concrete, we can provide you with the pavers of your choice. We are known for our quality and affordable prices. So, if you belong to areas such as Coral Gables, Fort Lauderdale, Miami, Miami – Dade, Miami Beach, or Pembroke Pines, then you can rely on us.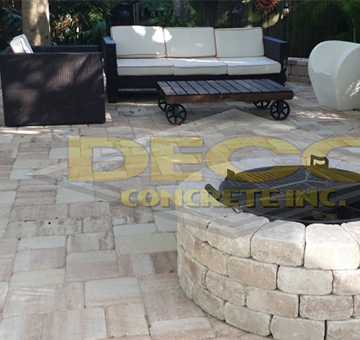 Here, we have enlisted a few amazing benefits of patio pavers. Take a look.
The patio pavers are made of high-quality materials that last a long time. You should understand that your outdoor is exposed to weather damage and regular wear and tear which might make it wear away easily. But the patio pavers are durable so it protects it and increases its longevity.
When you are choosing your pavers, you have to be very careful so that it appeals to the aesthetic senses. And since these pavers are available in a huge variety, you can design it more beautifully and turn your property into more appealing.
So, if you are interested in our patio pavers, then contact us today.