If you have newly purchased a house or just want to renovate your older home, the options are aplenty. Nowadays, people utilize different concepts to make their houses look more aesthetic and modern. For this, brick pavers can be a great idea. Pavers by themselves are an amazing décor item for surrounding landscapes. But admittedly, while their services are great, selecting an appropriate one takes ample amount of time, deliberation and professional help. Usually, people get overwhelmed by the shapes, material and designs. Professionals like us at Deco Concrete Inc. can make this process smoother, assisting you in choosing the perfect brick pavers that would not only be suitable to the appearance of your home but also functional. Thus, if you want such expert services in or near Doral, Fort Lauderdale, Miami, Miami – Dade, Parkland and Pembroke Pines, then we will provide it for you.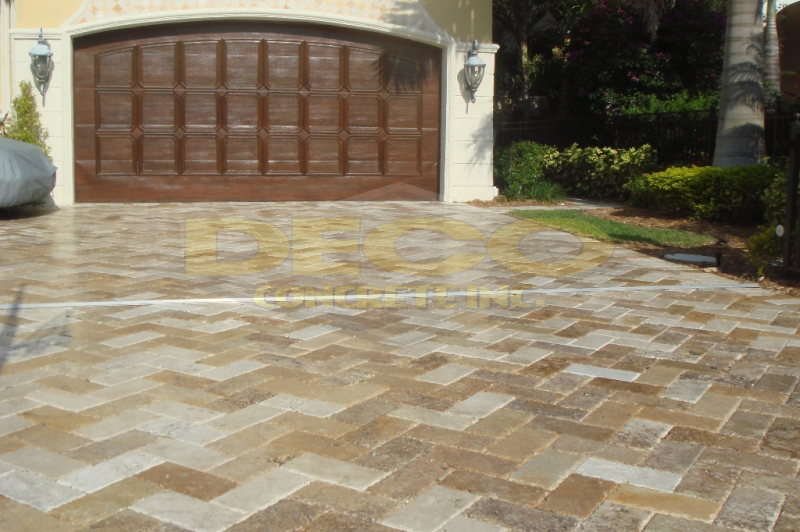 Here are two helpful tips before you hire a pavers company:
Compare and check:
Before choosing a paving company, make sure you compare at least three to five companies and select the one that suits you needs and preferences. You can also ask for client referrals on prior projects done. A good deal is not enough all the time, but ensuring additional elements like knowing if they have a proper license and reputation is also a must.
Conduct Prior Research:
Factor in your location and climate and do some research yourself as to what material pavers will be most suitable. Remember that brick is a porous material and the possibility of breaking apart is higher than concrete in areas of high weather adversity like rainfall, extreme heat or winds. You can of course still go for it, but make sure that you take an account of the annual costs of repairs and replacements that might crop up.
So, once you decide on these factors and think we can be the right choice, then give us a call at (305)-828-5158 or (954)-962-8009.