Are you thinking of buying a house with a huge outdoor? Big and spacious outdoors look lovely and can also be used for several purposes. You might want to grow a big lawn, enjoy a morning cup of tea on your patio, or even have a backyard pool for the scorching summers. No matter what you want to do to adorn your home outdoor, you should invest in some kind of pavers or concrete pads around your landscaping elements so as to enhance the appeal of the area as well as keep the people safe from falling or tripping in such spaces. We, at Deco Concrete, Inc., can be the right choice for you. We are an established and reliable company which has been in this field for over 20 years now. We can provide you with various kinds of brick pavers, stamped concrete, or concrete pads. We are known for our high durability, great designs, and remarkable customer service. So, if you belong to areas such as Palmetto Bay, Fort Lauderdale, Miami – Dade, Miami Beach, Golden Beach, or Kendall, then you must stop for us.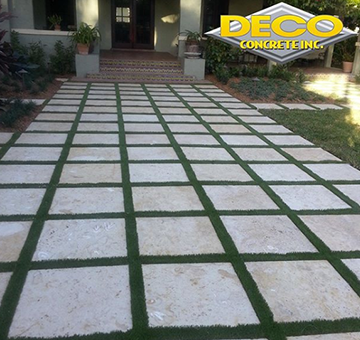 Here, we have put together a few questions to ask a company offering new concrete pads. Take a look.
Can you help with the installation?
You must understand that if the concrete pads are not installed in a proper manner, it will not serve the purpose and this might also get damaged in the process. That is why you should always hire a professional to get the installation done. You must ask the company in advance about their installation services.
Can you offer free quotes?
Budget plays a key role no matter what you are trying to purchase. You must ensure that you do not exceed the budget at any cost. That is why if you can get an estimated rate in advance, you can always match it with your budget. You should ask the company if they can provide you with free quotes or not.
So, after getting the answers, if you are thinking of choosing us, contact us today.