Do you want to build a driveway for your home outdoor? Not everybody has the space in their house to build a driveway but it is extremely convenient because of the shade that it provides for parking the cars. And it is also a convenient experience for people visiting your home. In order to make your driveway look appealing and make it stand out from the rest, you should also have driveway pavers to enhance its beauty. These pavers will also help you get a more safe experience and protect people from falling or tripping on the surface. We, at Deco Concrete, can be the right choice for you. We are an established and reliable company which has been in this field for more than 20 years. We can provide you with all kinds of pavers, concrete pads as well as brick pavers. We are known for our variety of size and color options along with our utmost dedication towards all our clients. So, if you belong to areas such as Fort Lauderdale, Miami-Dade, Golden Beach, Miami, Palmetto Bay, or Pembroke Pines, then you can opt for us.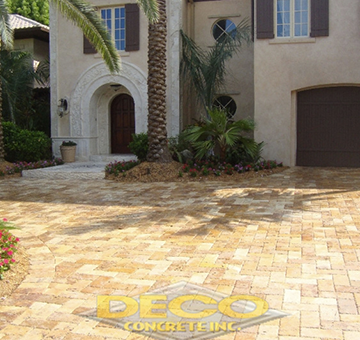 Here, we have put together a few factors to keep in mind while choosing the right company for your driveway pavers. Take a look.
Experience
Experience is important because it shows credibility. You can only trust a company with their products when you know it survived for a long time, providing good service to the people. That is why you must keep in mind the number of years a company has been in the business.
Reputation
Another thing that is important for you to trust a company it's the reputation they have in the market. That is why you must go through the client feedback, reviews, and online ratings of the company before making a choice. This will also help you understand the sort of products and services you can expect from them.
So, if you are interested in choosing us, contact us now.