Patios are the perfect place to host house parties. You can even laze around or let your children play at your patio. For many such activities, your patio has to be competent enough. The patio pavers at Deco Concrete Inc. will be your ideal resource. Operating since the 1990s, we have made quite a name for ourselves with our high-quality product and exemplary service. Whether you are starting from scratch or you want to cover up some imperfections in your existing pavers, our technicians are suited for the job. Being a family owned and operated business, we give immense importance to communication, coordination, and outstanding customer service. We make it our priority that you feel comfortable working with us. The stones used by our designers to decorate your patio or driveway come in different materials each having its own benefits. It is our strive for perfection and our professional efforts that make the people of Fort Lauderdale, Pembroke Pines, Miami – Dade, Miami, Parkland, and Palmetto Bay come to us.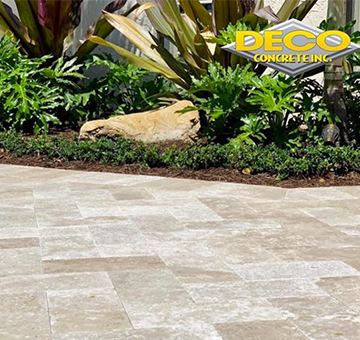 Below we have mentioned the top 3 materials commonly used for patio pavers. Take a look.
Concrete Pavers
These are available in a variety of colors, textures, sizes, and finishes. This makes them quite a favorite amongst the homeowners.
2. Slate
These come in square or rectangular tiles and give a natural stone look. Slate being a more affordable option for flagstone is otherwise similar to it when it comes to the installation procedure.
3. Wood
There are many who prefer the look of wood. But before finalizing the wood you should keep in mind the weather of your location. It is more suited for sunny weathers where there are fewer rainy days. Wood gives a rustic appearance to your patio.
So, if you are looking for a variety of patio pavers for your backyard, you can get in touch with us on (305) 828-5158.